Refresh Friday: So Dope, Sanity And Kyon (otakus With Attitude)
Event Location:
Cielo
18 Little West 12th Street
New York
NY
US
About The Event:

Friday, December 21st
It's the Holiday season and no other better way to celebrate than with family and friends! Let's TOAST. DRINK. & BE MERRY. We cordially invite you to our holiday soiree. SANiTY, DJ KYON, and So Dope will be providing great music to dance to! Hosted by Mr. Eddie P, Desiree Lorick and Otakus with Attitude! Whether you've been naughty or nice, we'll have one for you waiting on ice! Contact us for more info on #birthdays and #bottle specials!
Cielo
18 Little W12th St.
New York, NY 10014
Doors Open: 10:30 PM Sharp
21+
Ladies free all night!
Gents $20 at the door!
Music by:
So Dope
SANiTY
Kyon
VIP & More Information: call/text/email:
@epmevents
events@epmcgroup.com
@mreddiep (Edward Pierre-Paul) (631) 456-7278
@desireelorick (Desiree Lorick) (646) 483-7883 

DRESS CODE: 
We ask that you please dress in neat, casual and trendy chic attire upon entering our venue. It's best to stay away from anything athletic or baggy, hats and all construction boots (including but not limited to, UGG'S, Timberland, ACG or Polo boots). We prefer our men to wear a collared shirt.

(Strictly enforced)
Nothing can be athletic or baggy
NO ripped, torn, frayed or distressed jeans
NO cargo pants, camouflage
NO hoodies, graphic tees or Jersey's
NO construction boots of any kind
NO hats, caps or snap-backs
NO backpacks or book bags
NO Flip Flops or thong type footwear
NO shorts
NO tanks
Entry is always at the discretion of our door team.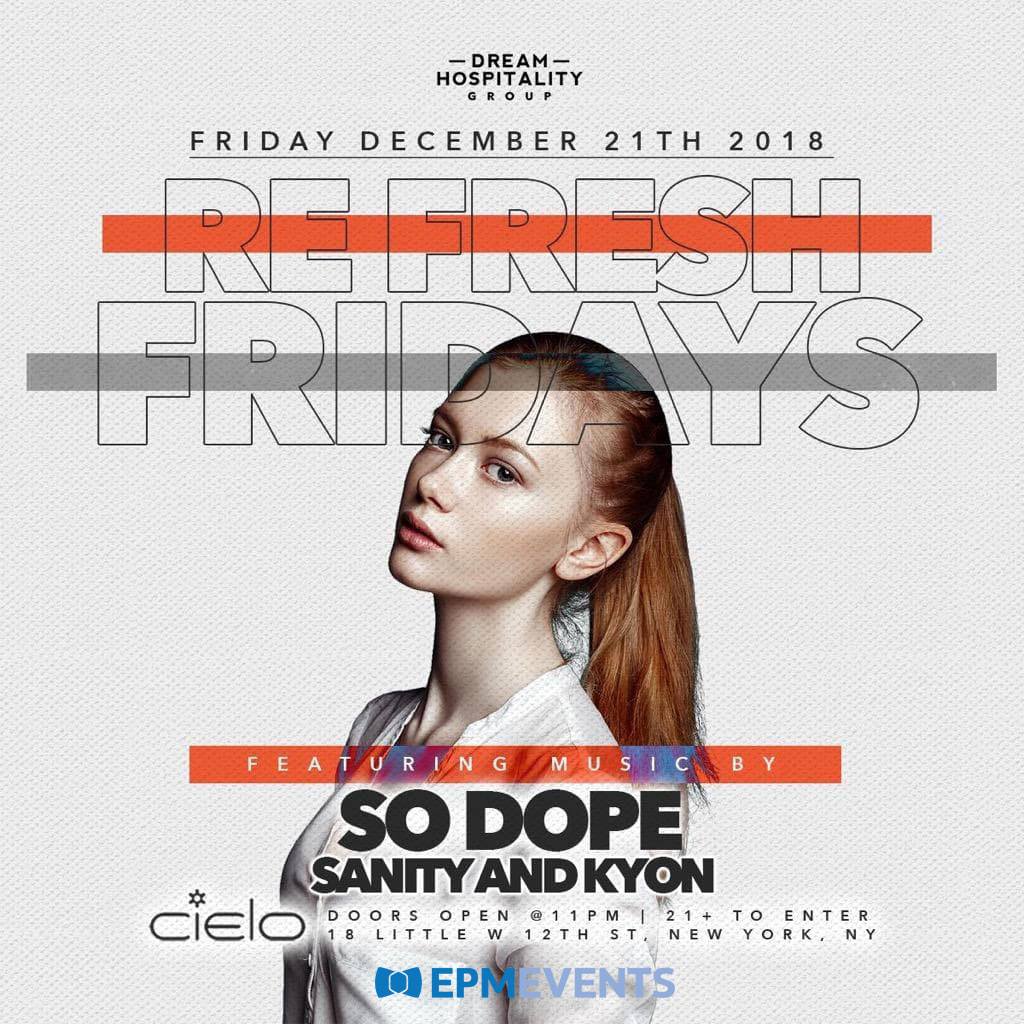 ---



Have a Celebration coming up?




We make it possible for you to host your company/corporate, art, fashion, music showcases, birthday parties & private dinners at a number of unique event spaces & a fleet of 6 yachts.

Booking your event with EPM Events will allow us to help you customize your event to the max. Let us help you create an amazing event with unforgettable experiences!

For more information visit us at epmcgroup.com!


2018-12-21 22:30