Trending Tuesdays
Event Location:
CRISIS BAR
913 Broadway
Brooklyn
NY
US
About The Event:

AFTER-WORK  TRENDING TUESDAYS

MUSIC BY. DJ LANCE AND DJ CROWD CONTROL

CRISIS BAR IS LOCATED AT 913 BROADWAY,

THE BUSHWICK SECTION OF BROOKLYN.

TIME FROM 4 PM TO 12 AM

age: 25 and Older

HAPPY HOUR IS FROM 4 PM TO 8 PM

$6 Wings
Honey Hot Wings
Deep fried wings tossed in a freshly made honey hot sauce.

Sweet chili soy wings
Deep fried wings tossed in a freshly made sweet chili soy sauce

Tacos
Freshly made taco's with aioli sauce, pickled jalapenos, pickled onions, crushed tomatoes, cojita cheese, and shredded lettuce

$5 – House-made Guacamole and Chips
Spicy guacamole served with warm tortilla chips.

$16 Grilled Salmon
Grilled salmon over a bed of orzo tossed in spinach mascarpone cheese with tomatoes tossed in red wine vinaigrette

DRINK SPECIALS 4pm to 8pm
$4 BEER
$4 WINE
$5 BEER+SHOT
$8 MARGARITAS
$8 MOJITOS
$20 FISH BOWL ALL NIGHT

TWO FOR ONE SPECIAL ON CIROC ALL FLAVORS, KETEL ONE, TITO'S, JACK DANIELS, JAMESON, AND JOSE CUERVO. UNTIL 8PM

$10 – HENNESSY, PATRON, DUSSE, JOHNNY WALKER BLACK, 1800.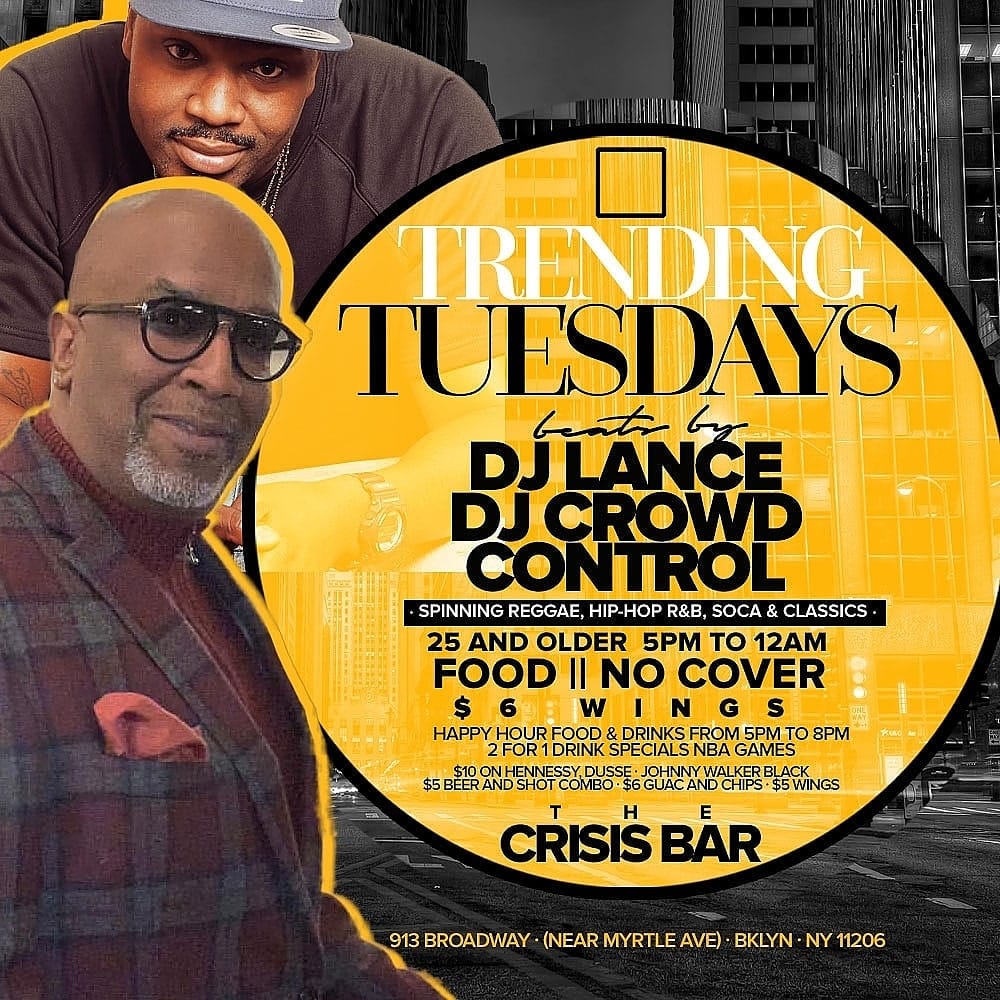 2019-03-05 19:00

#BBar