Bollywood Beats : New Years Eve Gala
Event Location:
Stage 48
605 West 48th Street
New York
NY
US
About The Event:

Price increase warning: Bollywood Beats New Years Eve Party ticket prices will be going up significantly(100% +) the closer you get to the event date. Please note that this event always sell out well in advance.
For VIP Table Reservation & Group Discounts : 908-403-7045



Revel in the lap of Ibiza-style luxury this New Year's Eve at New York City's nightlife luminary, STAGE48 Nightclub. With its famed, cutting-edge dance floor and trendsetting nightlife standards, STAGE48 is a mainstay of NYC's club scene. This New Year's Eve, STAGE48 ups the ante with deluxe amenities for a bash brimming with festivity, energy, and style.
Join NYC's Desi-party connoisseurs at the one and only STAGE48, the acclaimed mega-club and forerunner in NYC's famed nightlife scene. Basking in dazzling neon lights, STAGE48's internationally renowned dance floor will reach a fever pitch as the evening's headliner Dj Axay & Dj Harsh spin a pulse-pounding, Open Format soundtrack of Bollywood, Top 40, House, and Mashups. When midnight rolls around, grab a complimentary glass of champagne and join the DJ in a live countdown to kick off a brilliant New Year. STAGE48 is known for its exclusive nightlife standards and this NYE is no exception: choose a VIP Table Package and lavish in the magnificent spectacle that is STAGE48's incomparable bottle service.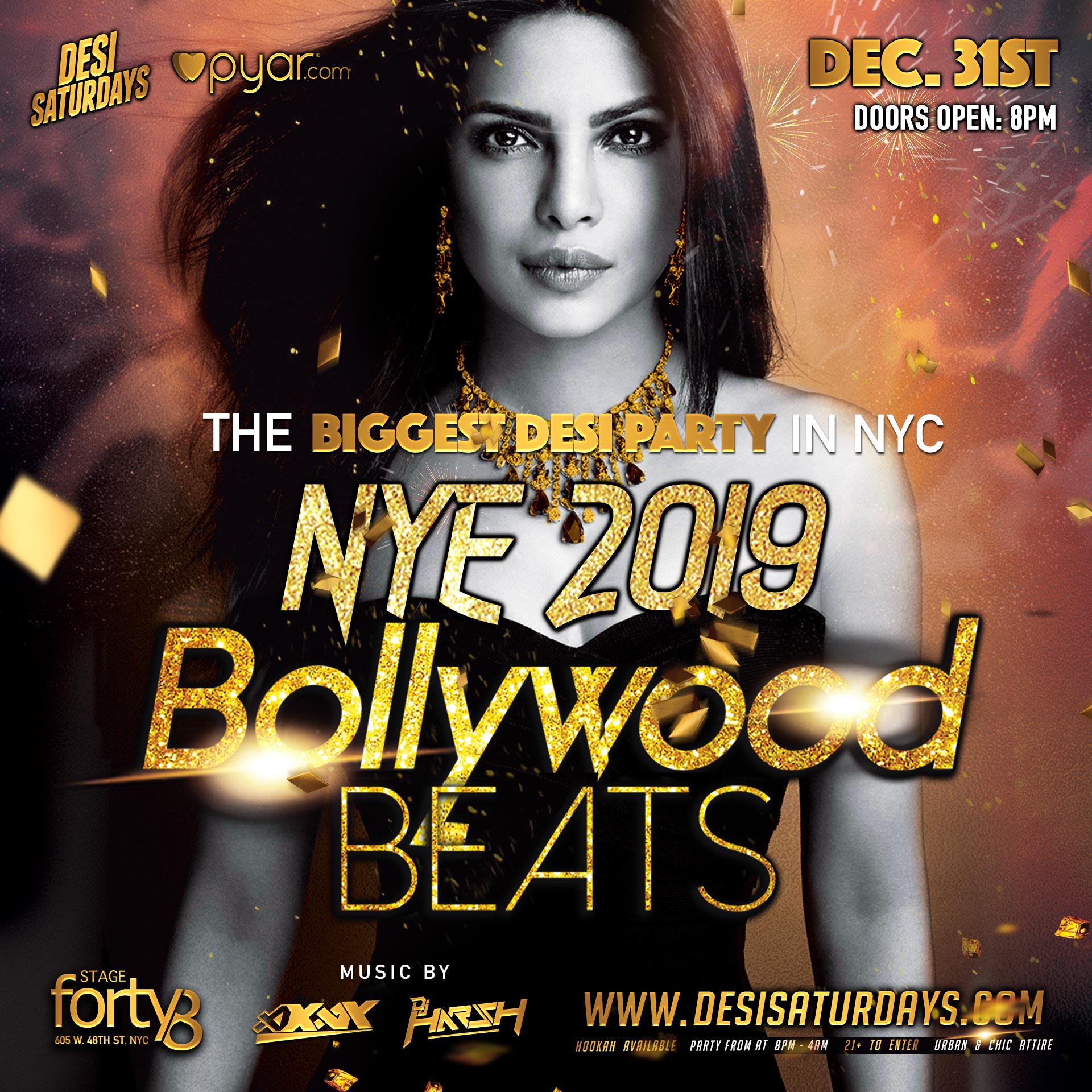 This New Year's Eve 2019 fete features all the Fabulous NYE perks including:
Your ticket gives you access to NYC's Biggest DesiParty
The One & Only 8 Hour Desi-Party from 8PM till 4AM
A Nightclub, Lounge and Massive Event Space all in one 
DJ AXAY & DJ HARSH spinning sets of Bollywood Music All Night 
An Event Strictly For 21+. Proper ID Required.
Festive NYE party favors & Complimentary Masks For Ladies.
Live NYE 2019 countdown on Multiple Screens
…and our photographers & videographers will be present to capture all the merrymaking one night can handle. Your very own paparazzi! 
GENERAL ADMISSION 
PREMIUM CASH BAR ALL NIGHT 
New Year's Party Favors
Come early and eliminate wait time
Countdown to New Year's Eve with Live Ball Drop on Gigantic LED Screen
ROYAL VIP ACCESS
Includes All General Admission Benefits. 
Priority VIP Check-In (Separate VIP Entrance) 
New Year's Party Favors
Come early and help reduce wait time
Priority Check-In. No Waiting In Line. 
VIP TABLE 
Includes All General Admission Benefits. 
Priority VIP Check-In. (Separate VIP Entrance) 
Reserved Nightclub Seating For The Entire Even
VIP Bottle Service and mixers at your table depend on group size 
Bottle service Gratuity charge paid to the venue on the night of the event. 
This Event is Strictly For 21+. Trendy & Chic Attire. 






STAGE48 is a subterranean party paradise with a multifaceted design. Through tasseled curtains, guests will find themselves in an expansive space outfitted with state-of-the-art lighting and an exclusive VIP areas with lavish banquettes. The centerpiece of this hotspot is its sprawling dance floor, boasting Massive LED screen, a raised stage for top-billing performers, and a custom-designed showcase system delivering impeccable sound.





Get ready for an unparalleled New Year's Eve night at New York City's leading nightlife mecca, STAGE48 Nightclub.




2018-12-31 20:00